Our Greeting Card Collections
Foil Stamping Adds a Special Touch
Although our cards may be blank on the inside, several have the option to add a Thank You! or Happy Birthday onto the front picture.
We individually hot-foil-stamp the text directly into the photo by hand.
This gives the gold or silver lettering a beautiful shimmer in the light for an amazing effect, making these cards very popular.
Foil-Stamped Cards
Why Are Our Greeting Cards Blank Inside?
We feel that the prewritten texts inside greeting cards have often the tendency to be impersonal, as they have been created for a broad range of occasions. The words are usually very general and frequently do not convey your own thoughts and feelings.
A personal note, however, shows that you spent a little more time thinking about the occasion, selected a lovely greeting card and expressed your thoughts and feelings in a personal message. Making this effort indicates that you mean it and that you care.
Give it a try. You will be amazed.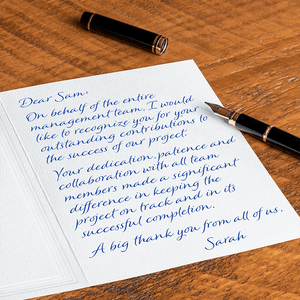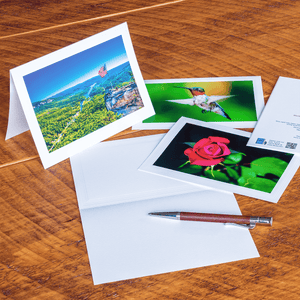 About Our Handmade Greeting Cards
We love taking pictures while on the road, and our favorite shots are those we feature on our cards. We have personally taken all photographs in this collection.
Each photo is printed on archival grade Professional Endura Premier Color Paper from Kodak. The silk surface finish of this paper offers rich vibrant colors, excellent durability and is also smudge and fingerprint resistant.
We hand-trim each photo before mounting them on the embossed front of our greeting card. Cards and matching envelops are made of acid-free, US-made paper, have a slight texture and an off-white color. We individually print the back of each card.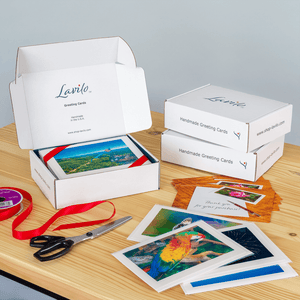 Shipping Your Order
Once we have received your order and your cards are ready to ship, we will package them in one of our gift boxes for your safekeeping.
For additional protection we ship all orders in a corrugated mailer box.
Just like our greeting cards these boxes have also been made in the USA.